Second Harvest
Campaign goal
Since January 15, 2016, 1585 supporters donated
Creation date: January 15, 2016
Thanks to our supporters
Aeroplan Contribution
50,000 points donated
20/11/2023
Anonymous
39,000 points donated
18/11/2023
Anonymous
59,951 points donated
16/11/2023
Anonymous
15,673 points donated
16/11/2023
Gregory S
NC
1,000 points donated
08/11/2023
Anonymous
1,000 points donated
08/11/2023
Anonymous
3,192 points donated
08/11/2023
Anonymous
1,000 points donated
06/11/2023
Glenda W
BC
2,021 points donated
30/10/2023
Anonymous
1,368 points donated
19/10/2023
Anonymous
1,000 points donated
16/10/2023
Anonymous
23,007 points donated
13/10/2023
Dimitri M
2,371 points donated
12/10/2023
Anonymous
9,875 points donated
11/10/2023
Anonymous
5,000 points donated
09/10/2023
Anonymous
8,098 points donated
09/10/2023
Anonymous
4,782 points donated
03/10/2023
Anonymous
5,000 points donated
01/10/2023
Anonymous
1,000 points donated
26/09/2023
Anonymous
5,000 points donated
09/09/2023
Anonymous
5,000 points donated
09/09/2023
Lori E
AB
10,000 points donated
21/08/2023
Sonya S
ON
1,530 points donated
20/08/2023
Anonymous
20,000 points donated
10/08/2023
Anonymous
5,000 points donated
22/07/2023
Anonymous
3,152 points donated
17/07/2023
About
Second Harvest is Canada's Largest Food Rescue charity and a global thought leader on food recovery. Working across the supply chain – from farm to retail – we capture surplus food before it ends up in landfill and has a negative environmental impact.

Last year, Second Harvest recovered 41 million pounds of unsold food — focusing on protein, dairy and produce — and redistributed it to a broad network of over 3,000 not-for-profit organizations across Canada. Supported by hundreds of corporations, foundations, and the community at large, Second Harvest rescues and redistributes enough food to provide over 110,000 meals a day in Canada.

Since 1985 Second Harvest has rescued and delivered more than 218,000 million pounds of food, preventing an estimated 429 million pounds of greenhouse gases from entering our atmosphere.
Our Vision: No Waste. No Hunger.

For support or more information please contact jessicaws@secondharvest.ca

About
Second Harvest is Canada's Largest Food Rescue charity and a global thought leader on food recovery. Working across the supply chain – from farm to retail – we capture surplus food before it ends up in landfill and has a negative environmental impact.

Last year, Second Harvest recovered 41 million pounds of unsold food — focusing on protein, dairy and produce — and redistributed it to a broad network of over 3,000 not-for-profit organizations across Canada. Supported by hundreds of corporations, foundations, and the community at large, Second Harvest rescues and redistributes enough food to provide over 110,000 meals a day in Canada.

Since 1985 Second Harvest has rescued and delivered more than 218,000 million pounds of food, preventing an estimated 429 million pounds of greenhouse gases from entering our atmosphere.
Our Vision: No Waste. No Hunger.

For support or more information please contact jessicaws@secondharvest.ca

UN Sustainable Development Goals
Zero hunger

Second Harvest's food rescue app connects businesses from any point in the food supply chain that have surplus food with local non-profits that use food in their programs. Second Harvest's app and direct delivery programs directly increase food access for charities providing food for people in need. By using donated food these organizations are able to redirect budget to other areas of their organization, ultimately increasing their program scope or number of people served. Many of the social service organizations that use rescued food from Second Harvest are also addressing the root causes of food insecurity through both direct client support as well as through advocacy and research.

Responsible production and consumption

Second Harvest's food rescue work and research support UN Sustainable Development Goal 12.3: "By 2030, halve per capita global food waste at the retail and consumer levels and reduce food losses along production and supply chains, including post-harvest losses." We address food waste and food security simultaneously by creating local opportunity through donation partnerships and our food rescue app to improve and extend food distribution and making this opportunity available across the country.
News and updates
The bad news is that Prince Edward Island potato farmers are currently facing a federal government-imposed ban on potato shipments to the U.S. because of the discovery of potato wart in some of the province's crop. As Darren Taylor reports for Sootoday.com, the good news is that PEI farmers...
Read more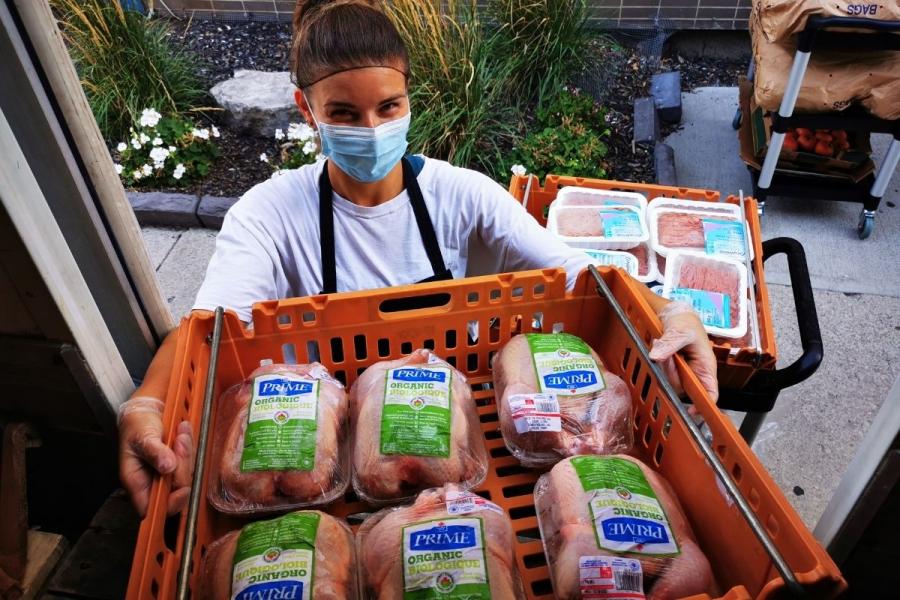 When COVID 19 hit, for a moment in time, everyone felt what millions of food-insecure people endure every day. Fear. Fear that there would not be enough food for themselves or their families as grocery shelves emptied with little information about when and if they would be filled again. This...
Read more
Thanks to our supporters
Aeroplan Contribution
50,000 points donated
20/11/2023
Anonymous
39,000 points donated
18/11/2023
Anonymous
59,951 points donated
16/11/2023
Anonymous
15,673 points donated
16/11/2023
Gregory S
NC
1,000 points donated
08/11/2023
Anonymous
1,000 points donated
08/11/2023
Anonymous
3,192 points donated
08/11/2023
Anonymous
1,000 points donated
06/11/2023
Glenda W
BC
2,021 points donated
30/10/2023
Anonymous
1,368 points donated
19/10/2023
Anonymous
1,000 points donated
16/10/2023
Anonymous
23,007 points donated
13/10/2023
Dimitri M
2,371 points donated
12/10/2023
Anonymous
9,875 points donated
11/10/2023
Anonymous
5,000 points donated
09/10/2023
Anonymous
8,098 points donated
09/10/2023
Anonymous
4,782 points donated
03/10/2023
Anonymous
5,000 points donated
01/10/2023
Anonymous
1,000 points donated
26/09/2023
Anonymous
5,000 points donated
09/09/2023
Anonymous
5,000 points donated
09/09/2023
Lori E
AB
10,000 points donated
21/08/2023
Sonya S
ON
1,530 points donated
20/08/2023
Anonymous
20,000 points donated
10/08/2023
Anonymous
5,000 points donated
22/07/2023
Anonymous
3,152 points donated
17/07/2023